Éimear provides beautiful, atmospheric, instrumental violin music for your special day, during any part of your wedding. 
Her chosen pieces and unique sound create a stunning ambience. 
Wedding ceremony music
For your wedding ceremony Éimear plays
as the guests arrive* and are seated,
during the procession,
at the signing of the register
and when you are walking back up the aisle as a married couple.
❤️

Éimear is available to play at church weddings, civil ceremonies and civil partnerships. 
If you have a particular song or hymn that you would like to hear on your special day,
this can be arranged.
Éimear performs each violin piece from memory, without the need for sheet music.
*Please note that Éimear plays before the ceremony for around 20 to 30 minutes.
This can only take place in the actual ceremony room, church or chapel where the pa system is set up.
Special offers January and February 2022
Drinks receptions
For your drinks reception Éimear's instrumental violin music creates the perfect atmosphere on your special day.
With a huge repertoire of different styles of music to suit guests of all ages
Eimear's playing will enhance the romantic mood until the dinner bell is rung.
With her wireless electric violin she is also free to roam the room and interact with your guests
playing upbeat popular songs and tunes.
 
Within Northern Ireland Éimear is now offering violin entertainment
for after dessert time during the wedding meal.
This will not include background violin music during the wedding meal itself but will be an option for couples who would like lively electric violin music at this point during their reception. 

Email for more details.
Evening reception music & violin entertainment
Eimear's violin playing adds the perfect musical backdrop to your evening reception. Playing beautiful, well known popular pieces of music during your wedding meal, at a background level, Éimear's music enhances the romantic atmosphere.
Using an eye-catching silver-blue 'Bridge Aquila Dragon' wireless electric violin, Éimear entertains in between courses and after the meal.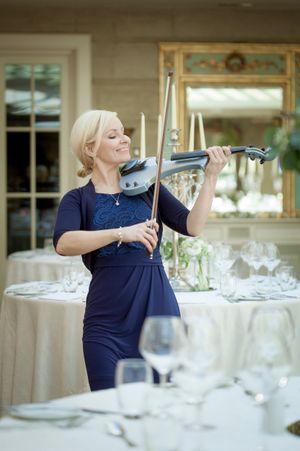 Tankardstown House in County Meath by a-fotografy.co.uk
Playing from table to table, Éimear's energetic, captivating performance brings a fun, completely unique musical feature and highly memorable element to your reception.
Well known popular song violin instrumental covers are performed by Éimear by artists such as,
Bill Hayley & The Comets
Dean Martin
Queen
Bruno Mars
Nikki Minaj
Walk the Moon
The Killers
Klingande 
Traditional  
Irish jigs and upbeat tunes are also played which get the feet tapping!
Playing until your band arrives means that there is no lull after your meal.
It also ensures that your evening reception flows perfectly, bridging the gap until the band set up.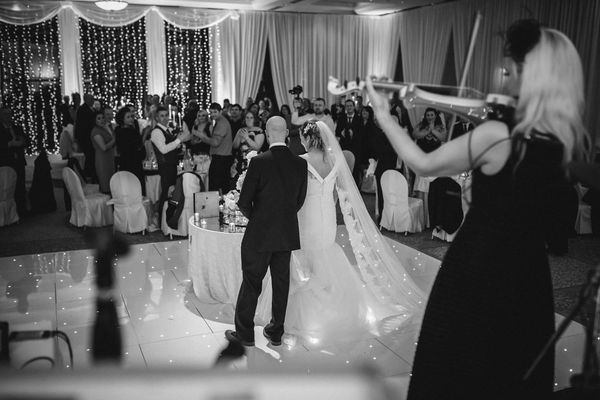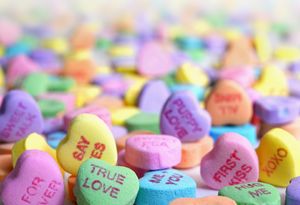 Why hire Éimear for your wedding reception?
Éimear has had the pleasure of being invited to play at many weddings over the years. The rave reviews from couples who hired Éimear's music and entertainment for their wedding day can be read here, 
https://eimearbradley.com/testimonials 
Hiring Éimear, a highly experienced, accomplished electric violinist and entertainer, ensures that there will be many wonderful and unforgettable memories from your evening wedding reception! 
Éimear was and still is, Ireland's first, female solo-wedding reception electric violinist/entertainer, using the visually and acoustically stunning Bridge Aquila violin. 
Click the link below to see the Corporate Events that Éimear has performed at,