---
WELCOME
to the website of solo electric violinist,
Éimear Bradley
---
Covid-19 Updates
---
Diary open fully for wedding & event bookings Autumn and Winter 2021
---
Evening reception music is now permitted in wedding venues
Contact eimearviolin@hotmail.com
---
Restaurant background violin musician, solo artist availability!
Highly experienced female solo violinist to enhance the atmosphere of your restaurant/bar. 
Éimear has had the pleasure of providing ambient violin instrumental sets at the following venues & events
Galgorm Resort & Spa-Christmas Day Event for 3 years running in The River Room restaurant 
Galgorm Resort & Spa and Fratelli's Belfast-Valentine's Night
The Knife and Fork restaurant at Malone Lodge Hotel in Belfast
 Lough Erne Resort, Co. Fermanagh, Mother's Day
 Café Parisian, Belfast city centre-dinner background violinist
To hire Éimear to play at your restaurant or bar please contact eimearviolin@hotmail.com
---
News
Sheet music of Eimear's composition, 'The Jewelled Sky' will soon be available to purchase from the website.
One of Eimear's own song-compositions has been re-recorded in the last few months by top session musicians and along with the direction of one of Ireland's top music Producer-sound engineers. 
Eimear is available for bookings as a solo violinist for restaurants, hotels and bars. Her solo sets are suitable for the lobby area or set back from where guests will be enjoying their food and drinks. Set lists will be tailored to suit your venue and to enhance the atmosphere. 
Solo violinist available for Christenings and post Christening events in Belfast.
Contact eimearviolin@hotmail.com for more information.
---
Éimear started playing the violin at the age of seven in her native Belfast.
After completing her music degree, she moved to the North West of England where she gained a PCGE in secondary school music teaching. Eimear then left teaching to pursue her career as a performer/writer.
In February 2013 Eimear toured Holland Irish dance and music show, 'Celtic Rhythms'. She was the violinist and lead singer of 'Red is the Rose'. 
Eimear was also the original lead fiddle player/violinist and musician in the critically acclaimed show 'Essence of Ireland'. She toured the UK theatres for 3 years with the show and was mentioned frequently in the rave reviews for her energetic performances.

Éimear has performed many times alongside a top UK tenor, which has lead to performances for Honda in the Isle of Man, Budapest, London, Wales & Northern Ireland. 
She performed as the violin soloist at The UTV Business Awards at The Culloden Hotel in 2012.
As part of a violin duo Eimear performed at The Remembrance service in Belfast's Waterfront Hall on the main stage in October 2013. 
In 2019 Éimear opened The ABC  (Armagh, Banbridge City and Craigavon) Business Awards with a solo stage performance. In 2020 Éimear had the pleasure of performing for Terex Ecotec at The Global Dealer Conference event at The Guildhall in Derry, Northern Ireland. 
Éimear was the fiddle player and backing vocalist with top folk/country band 'The Bogtrotters' for 4 years. This led to performances throughout the UK, as well as Germany, St. Lucia and Holland.
As well as credited session work on films, including the soundtrack to the Bob The Builder movie, 'Built To Be Wild',
Éimear made an appearance playing the fiddle in Demi Moore's supernatural thriller, 'Half Light'.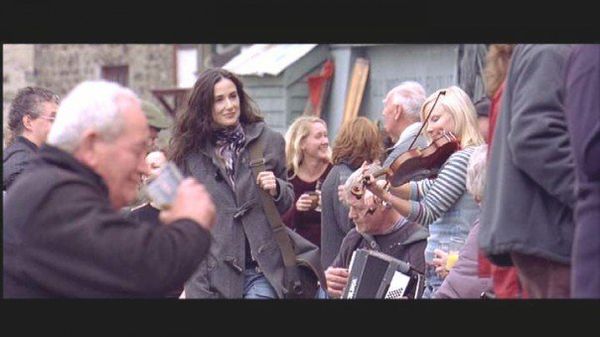 Eimear was a semi-finalist in The UK Songwriting Competition for her song, 'Tommy'. 
In 1995 Eimear had the pleasure of having the lead acting role in a BBC Education screenplay, written by Damian Gorman and produced by Michael McGowan.
The screen play was called 'Café Society' which was part of the 'Study Ireland, English and Drama' series. Eimear was the presenter for the accompanying documentary and she provided the voice-over for the screen play and documentary. Following on from this Eimear was also an actress in a BBC reconstruction scene in the series 'Home Truths.'
Lots of new compositions will be downloadable from the website from 2021 onwards and there are lots of developments and exciting things happening with Éimear's songs.